Our story
Settimo Senso 28
A Traditional restaurant in Milan
Settimo Senso 28 is a renowned restaurant in Milan, located in Via Pasquale Sottocorno 27. We offer our customers a menu with excellent quality of meat and fish, using only fresh, seasonal and very high-quality ingredients. At our restaurant, you can taste First Course and Seconds Course of meat with fine cuts such as Angus, Chianina and Fassona. Starter plates and Desserts with delicate and pleasant flavors. All in an elegant setting, served by a courteous and helpful staff who will advise you best. Browse the image gallery below to immerse yourself in the elegant atmosphere of Settimo Senso 28.
---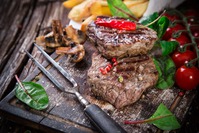 ---
Meat specialty in Milan
Settimo Senso 28 is a restaurant located in Milan, within the area called 5 Giornate, precisely in Via Sottocorno 27. Our restaurant is one of the most appreciated in the city of Milan, for its rich proposal of meat specialties that can satisfy even the most demanding palates.
The philosophy of Settimo Senso 28 lies in the use of quality raw material and in the well-established experience of the chef, who thanks to his knowledge of international cuisine and the love he has for Italian products and for our nation, fuses inspiration and raw materials, creating really unique and gastronomic journeys. While proposing a traditional cuisine, our chef introduces in the recipes innovative and refined ingredients to be enjoyed in the elegant and evocative environment of our restaurant. Our indoor lounge also caters to reserved and romantic dinners or corporate dinners. Our staff will always be ready to welcome you with the utmost courtesy and professionalism, illustrating the proposals that make up our menu and advising you on prestigious wines to match the various proposals of our Chef Romar Tyrone Marzan. To have more information about our menu or to book a table, please contact us by filling in the form indicated in the Contacts section. You will be contacted quickly by one of our managers, who will respond to your every request with clarity and punctuality.

---